Coldwater Ranch Trail Rides 2013
2013 Holiday Rides

Memorial Day Ride
May 26-June 1
$49 per day, per person

Labor Day Ride
Sept 1-7
$49 per day, per person

Thanksgiving Ride
Nov 27-Dec 1
$49 per day, per person
We are a small quiet place offering exceptional service and amenities for you and your animals. You are welcome to come and ride on your own year round. We'll provide a map with some of the 250 miles of trails marked and point you in the direction of the most popular trails. The cost is $17 per stall and $20 per site, per night. If you are not part of an organized ride, the meals are: $10 for breakfast, $10 for a sack lunch, $15 for dinner. Order meals by the day or for specific meals, but order and pay in advance.
The guided trail ride dates are listed below, with a maximum of 50 paid riders. If you have a group to bring at another time, give us a call and we will try to accommodate you.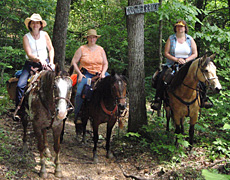 Trail Rider package available to all riders year round. For $47 per day per person you will receive campsite, stall and 3 meals. The package starts with the evening meal the first day you arrive and ends with breakfast the last day. During organized trail ride dates, a guide will be available for free. However, you may still ride on your own.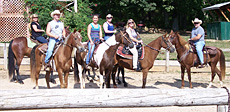 Hookups have electric, water and are near the stalls so you can see your horse or mule. There is a shower house with sink, shower, and stool in each unit. The firewood is free. Dump station near campsites. Prior pet approval required and must be kept on a leash at your camp.
Large covered box stalls (most are 12' x 12'). All horses or mules must be stalled, no picket lines. Water is by the barn. Feed and hay available to buy. Emergency farrier available.
2013 Trail Ride Dates

March 10-16
March 24-30
April 7-13
May 26-June 1
Memorial Day Ride
Sept. 1-7 Labor Day Ride

Sept. 15-21
Oct. 6-12
Oct. 27-Nov 2

Nov. 27-Dec 1
Thanksgiving Special
$49 per day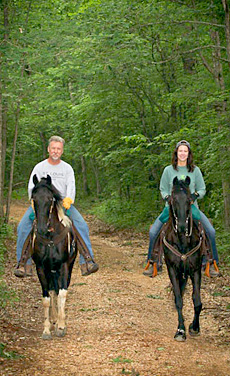 Trail Rides Package includes:
Guide (as reserved)
Trailer Campsite
Stall - 1 Horse per Stall
Breakfast, Sack Lunch, Dinner
$47 per day per person (except holiday rides)
Bring your own water and feed buckets.
Reservations and prior payment required.
Cabins and rental horses available at additional cost.
If you are a guest and have horses at the ranch, you may rent a ranch horse for the day or week for an extra rider or as a replacement for an injured horse.
POLICY
We are a small resort and take your cabin, campsite and/or stall off the market when you make your reservation. We must charge and keep your 50% deposit for the entire amount of your stay if you cancel within 30 days of arrival date. Your deposit will be available for you to use on another stay for up to one year. A 50% deposit is required within 5 days of reservation.
Restrictions apply. Cancellation policy applies.