2013 Riding Rates
Recession Rate Reduction: $40 per hour per person
Special All Day Rate: $200 per person
All rides are guided.
Additional person in saddle, $15 per hour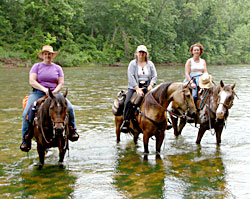 POLICY
You are charged for the number of horses you reserve and the number of hours you reserve when you make your reservation. NO REFUNDS for changes in your plans. You will need a MasterCard, Visa, or Discover credit card when you call for your reservation and you will be charged at that time.
Guided Horseback Riding is Available Most Days
Consideration is given to the weather. We ride when the temps are between 40 and 90. You will need a reservation with specific time and number of horses needed. We have horses for most riding abilities. There is a weight limit of 275 pounds. Rides are availavle from one hour to all day. You may want to come early or stay after your ride to enjoy a meal from the Coldwater Country Kitchen. Our expanded menu will satisfy!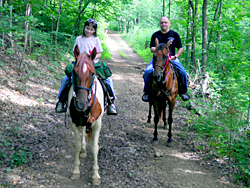 Cowboy Rough-Out Ride
Have you ever thought you might want to trail ride like a real cowboy? Here is your chance to do just that in the beautiful Ozark Hills. Your ride package includes guide, horse, tack, meals, and tent with sleeping bag. We will start your adventure with picking a horse, grooming, and saddle fitting about 10 am. We will then pack lunch and head out for a ride of a lifetime. Trails will take us over bluffs, across streams, up and down hills, and along wooded trails with a chance of seeing the Wild Horses. We will lunch where you can relax along the river, swimming if you want.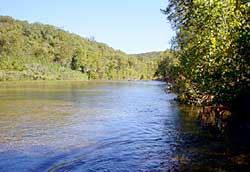 The ride is geared to the individual group, so we can take as many breaks as you wish. Some like to explore the caves, others like to just keep going. We will return to the ranch around 5pm to take care of the horses, brushing and putting away the tack. You will then be free to enjoy the evening. Your tent will be set up near the barn under shady pines and will include a sleeping bag. Shower in the nearby shower house, start your own fire in the pit provided. Food, basic cooking equipment, and fire wood will be provided so you can easily cook over the open pit. Pitch horse shoes or washers, fish in the ranch lake stocked with catfish and blue gill, or simply relax. Multiple days are available. All rides end with breakfast the last day.
Due to heat and humidity, no roughout ride available July or August.
The cost of this ride is $400 per person. A 50% non-refundable deposit is required with reservation.
Restrictions apply. Cancellation policy applies.