2017 Riding Rates
All Day Ride: $400 for 2 persons

All rides are guided.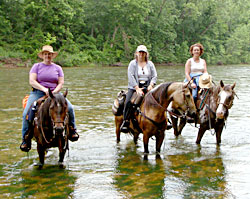 POLICY
You are charged for your ride when you make your reservation. NO REFUNDS for changes in your plans. You will need a MasterCard, Visa, or Discover credit card when you call for your reservation and you will be charged at that time. Rental horses available for persons over 18 only. You will be required to sign a liability waiver stating you have no physical limitations to riding.
Guided Rental Horses
At Coldwater Ranch, we offer guided horseback riding for 2 persons for all day. We no longer offer hourly rides and we are no longer taking more than 2 persons at a time. Your ride will include lunch, many stream crossings, hilly climbs, an offer of going to a cave and a chance of seeing the famous Missouri Wild Horses. The more you ride, the more you will appreciate the beauty of the Missouri Ozarks.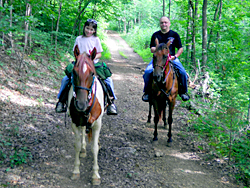 Rides are available by reservation only with a Mastercard, Visa, or Discover, or by coming out to the ranch and paying cash in advance. Consideration is given to ranch guests first. We ride when the temperature is between 40 and 90 and do not ride in the rain. There is a weight limit of 275 pounds.
We are using gaited horses so the ride is very smooth. You may want to come early or stay after your ride to enjoy a meal from the Coldwater Country Kitchen. Our expanded menu will satisfy!
Replacement Rental Horses
For those camping here at the ranch, we offer replacement rental horses should one of your own become lame or you simply need an extra horse for a member of your group. All rentals are for the day and available from 9am to 5pm. Horses returned later than 5pm will be charged a late fee. We provide the equipment for the rental horse, but you may use your own saddle if it fits properly. Talk to Kathy about cost, late fees, and restrictions.